Circuit Simulation Services
Circuit Simulation Services
Circuit Simulation Services
At PCB Must Innovations, we offer high-quality circuit simulation services that help our clients achieve optimal performance and  reliability from their circuits. Our team of experienced engineers and technicians use state-of-the-art software tools to perform accurate and reliable simulations that accurately predict circuit behavior in real-world scenarios.
Our circuit simulation services provide clients with the ability to simulate and validate electronic circuits before they are built. This helps to ensure that the final product is optimized for performance and reliability.
We offer the following type Circuit Simulation Services
We offer SPICE (Simulation Program with Integrated Circuit Emphasis) simulation services to analyze and verify the behavior of analog, digital, and mixed-signal circuits.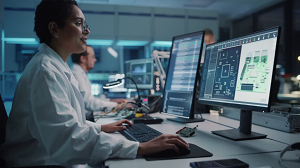 We provide simulation services for printed circuit board (PCB) designs to ensure the accuracy and reliability of the board before it goes into production.
Signal Integrity Analysis
Our signal integrity analysis services can identify and mitigate signal integrity issues such as reflections, crosstalk, and electromagnetic interference (EMI) in high-speed digital circuits.
We offer power integrity analysis services to ensure stable power delivery in electronic systems, identifying and mitigating voltage drops, noise, and other power-related issues.
Our thermal analysis services can simulate and analyze the thermal behavior of electronic components and systems to ensure proper heat dissipation and prevent overheating issues.
We provide electromagnetic analysis services to evaluate and optimize the electromagnetic compatibility (EMC) of electronic devices, ensuring they meet industry regulations and standards.
Challenges we can help you overcome
At PCB Must Innovations, we understand the challenges that come with designing and optimizing circuits. Our circuit simulation services help to overcome the following challenges:
Complex Circuits: Our team has experience working with complex circuits, including those with multiple components and intricate designs.
Simulation Accuracy: We understand the importance of simulation accuracy and take great care to ensure that our simulations are as close to real-world conditions as possible.
Software Compatibility: Our team is experienced with a variety of simulation software and can work with clients to determine the best software for their specific needs.
Why choose PCB Must as your Circuit simulation Services
Our team of experienced engineers has extensive knowledge of circuit simulation and can accurately model and simulate complex circuits.
By using circuit simulation, we can identify potential issues early in the design process, saving you time and money on expensive redesigns or faulty prototypes.
Our simulations team are accurate and reliable, ensuring that your final product performs as expected.
We understand the importance of deadlines and strive to deliver our services in a timely and efficient manner.