Are you looking for reliable solutions to maximize productivity and access unparalleled mechanical engineering solutions that are tailored to your needs and solve your individual and company's problem easily? If yes, you are at the right place. At PCB Must, we have been providing engineering solutions and value-added services. Our mechanical engineers have experience in the analysis, design, manufacture, and maintenance of various mechanical systems.
By outsourcing mechanical engineering, you can stay competitive by improving R&D services and product development, shortening development cycles and product development costs, improving resource utilization, refining product innovation, and gaining competitive advantage in the marketplace.
Product Design Services We Offer
Scope :    Based on Client's requirement and our analysis, an ideal work statement is structured.
Conceptualize :    Sketching our ideas with innovation/creativity which will be an added flavour to the product.
Engineer :    Ergonomics, Manufacturability, Ease of Assembly are considered as soul of the product designed.
Build :    Manufacturing quality products from less to huge volumes depending on Client needs.
Plastic Enclosure Design
Sheet Metal Enclosure Design
Electronic Enclosure Design
Arduino Enclosure Design
Raspberry Enclosure Design
PCB Enclosure Design
IoT Device Enclosure Design
Request quote Now for Enclosure Design.
The company's team of engineers comprehends the customers' requirements and presents rational designs and development solutions. A design brief is provided to the company's customers along with concepts and prototypes.
Manufacturing support is one of the most valued services offered by PCB Must. The company uses processes that have been successful in the past, to deliver design solutions that pay heed to important factors such as aesthetics and ergonomics. The members of PCB Must' engineering team are skilled in product design and development services, tool design and development such as work holding devices, Jigs & fixtures, die casting and mold designs. Not only does the dynamic team offer workable prototypes, but also makes arrangements to source raw materials.
Software used to Deliver Design Solutions
Pro/Engineer
Ansys
AutoCAD
SolidWorks
CATIA V5
Unigraphics
Autodesk Inventor
Benefits of Working With PCB
Must
 You would benefit from the thorough knowledge of product and machine design services across various industry verticals that the team at PCB Must possesses.
Our team has expertise and a thorough understanding of the entire product lifecycle.
With strong Finite Element Analysis (FEA) skills and a sound experience in experimental testing, you would receive better designs.
The company's engineering team is proficient in New Product Introduction (NPI) and global outsourcing practices.
Request quote Now for CAD Modelling.
Whether you are an architect, interior designer, building contractor, product manufacturer, or a designer, you require professional 3D rendering and modeling services that can precisely and creatively add a new dimension to your imagination.
We have a team of qualified engineers, CAD designers, managers, analysts, and draftsmen, who can dedicatedly work on your project, communicate with you, create drafts, and make amendments quickly till the desired quality is achieved, once you outsource 3D modeling services. Our skilled resources in India help you save a lot of time and cost.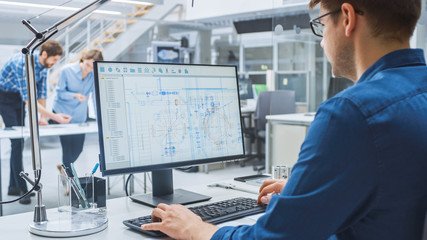 Our 3D modeling and drafting solutions include -
3D Rendering
3D Modeling
3D Computer Animation
3D Architectural Rendering and Visualization
Product Designing
Legacy Conversion
Conversion of 2D Drawings to 3D Drawings
Format conversion (AutoCAD, TurboCAD, DataCAD, Visio, MicroStation, Vectorworks, Inventor, Pro-E, Solid Works, ADT, Solid Edge, 3D Max, and other popular software technologies)
Remodeling, resizing, and scaling of legacy drawings
Request quote Now for 3D Rendering.
PCB Must is a flexible partner who can help you quickly introduce new products into the market and scale as demand increases. We take into consideration how the entire mechanical assembly will come together with purchased and custom components, helping you bring new products into the market at accelerated speeds.
At PCB Must, we have been offering top quality mechanical engineering services to global clients. Our infrastructure is complemented by a well-defined process with standard operating procedures for analysis, communication, drafting, reporting, and quality checks to ensure total customer satisfaction. We has a dedicated prototyping group focused on helping our customers work through design obstacles.
Requirement Analysis
Implementation
Regular Reviews
Quality Check
Final Delivery
Request quote Now for Moulding And Prototyping.
Why You Should Develop Your Project With Us